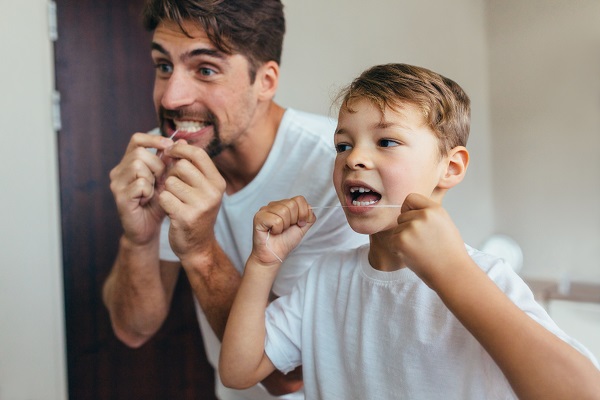 Maintaining healthy teeth and gums does more than ensure a strong and beautiful smile. Proper routine dental care also helps lower the risks of developing many serious diseases, including certain cancers, heart problems, and diabetes. However, patients who struggle with dental anxiety may fail to stick with a regular cleaning and checkup schedule. As a result, these people are more likely to face decay, gum disease, and the need for extensive dental work. Fortunately, there are ways to treat dental anxiety, reduce symptoms, and experience a less stressful visit to the dentist office.
5 tips for dealing with dental anxiety
There are many simple ways to alleviate anxiety during a dental checkup. These tips can help patients feel more calm during visits.
1. Practice better home care
For some people, the fear of pain or embarrassment from unhealthy teeth and gums can be avoided with proper home care practices. Patients should strive to brush at least twice a day, floss once, and use a mouthwash occasionally to help kill unwanted bacteria. As a result, patients can experience less swelling, tenderness, and bleeding during a cleaning while enjoying better oral health as well.
2. Make a list of concerns
Patients with dental anxiety can benefit from making a detailed list of all of their fears before making an appointment for routine dental care. This can help pinpoint the true source of the anxiety for better preparation. As well, by sharing this list with the dentist, a customized treatment plan may be created to meet the patient's needs.
3. Choose a more compassionate dentist
Some dental offices focus on helping patients overcome dental phobias. Many of the staff members in these locations can offer a more gentle and kind approach for sensitive patients. The offices may also be equipped with upgrades to help patients feel more at ease.
4. Practice relaxation exercises
Meditation, yoga, and breathing exercises can all help a person feel more calm during a stressful situation. By mastering these practices ahead of time, patients can utilize them at any time during an appointment to reduce anxiety symptoms.
5. Bring wireless headphones to the office
Many people find that it is helpful to listen to calming music or a funny podcast when visiting the dentist. Arriving early can give a patient more time to relax while sitting in the waiting room. It is a good idea to start listening during this time. Then, when the patient transitions into the room for treatment, they are already distracted and more at ease, and can continue to listen throughout the duration of the appointment.
Conclusion
Dental anxiety is a relatively common condition. However, if severe anxiety is getting in the way of routine dental care, it is important to take action to reduce and prevent symptoms. Patients who are still unable to cope may need to seek out therapy options so that proper oral health can be maintained.
Request an appointment here: https://dentisthouston4smile.com or call Smile Designers at (281) 947-0551 for an appointment in our Houston office.
Check out what others are saying about our dental services on Yelp: Routine Dental Care in Houston, TX.
---
Related Posts
December 2, 2021
Many dental patients have come to expect X-rays as a part of routine dental care. Once or twice a year, a patient may be asked to undergo this simple procedure that …