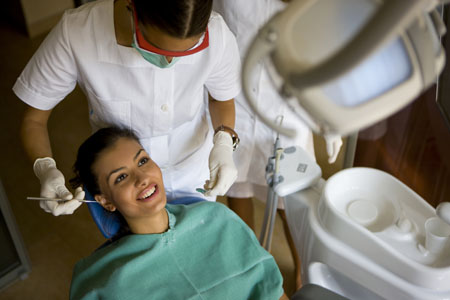 As a general dentist in Houston, we can perform a deep cleaning dental treatment so your mouth can become healthier. We understand the value of preventative care, which is why we recommend you visit our office twice a year for a bi-annual teeth cleaning. During this appointment, we can remove the plaque and tartar in hard-to-reach places between your teeth and along your gum line. If you keep up with these appointments, it is possible for your teeth to stay healthy both now and well into the future.
The challenge happens when you do not visit the dentist regularly. Whether due to dental anxiety, a lack of insurance, or being too busy, many adults skip their regular dental cleanings and go years in between them. This creates a situation where so much plaque and tartar build up that gum disease sets in. In this case, you may need more than a standard teeth cleaning.
A deep cleaning dental appointment goes beyond the standard cleaning to get to the plaque or tartar that has built up underneath the gums on the surface of the teeth that are generally covered. Given the sensitive nature of this area of your mouth, we often complete this level of cleaning over the course of multiple appointments. In fact, sometimes we need to complete them in four separate appointments to ensure your gums do not become overly irritated.
Whether this is necessary or not depends on the extent of the buildup and how infected your gums appear to be. However, the ultimate goal of a deep cleaning dental appointment is to ensure all the plaque and tartar are removed from your mouth so your gums can remain in good condition and you are not at risk for developing cavities or gum disease.
As a general dentist in Houston, we practice gentle dentistry, so even if your gums need to be treated, we can do so in a way that causes you as little irritation as possible. We will numb the area as needed and use modern dental tools and innovative techniques to ensure your dental cleaning is completed as quickly and efficiently as possible. The good news is that once your mouth is fully clean, your gums should begin to heal on their own and return to good health.
The only exception to this is if your gums have begun to recede. In this case, a gum graft of alternative treatment may be required to restore the shape and size of the gum tissue. When you visit our general dentist office, we can let you know if this is the case and if so, what to expect from your treatment.
By and large, if you want to avoid needing to have your gums treated or a deep cleaning dental treatment, keep up with regular brushing and flossing on a daily basis and visit us for regular dental care.
Cosmetic Dentist  >  Family Dentist
---
Related Posts
July 10, 2020
Toothaches often cause discomfort, as well as difficulty with eating and speaking, however, with the help of a general dentist, the toothache can be remedied. General dentists offer routine dental care to patients of all …
---